Welcome to Moorpark Smiles Dental
Paul K. Takemoto, DDS and Associates - Welcome to Our Practice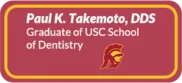 Welcome to Moorpark Smiles Dental located in Moorpark, California! Dr. Paul Takemoto and our experienced staff are dedicated to helping you improve your smile. Together with our highly trained staff, Dr. Paul Takemoto is committed to meeting all of your dental needs and goals! Our team at Moorpark Smiles Dental is eager to help you and your family achieve optimal oral health.
We are proud to provide comfortable, painless dental care to all of our patients. We are pleased to offer implant, cosmetic and restorative dentistry. Whether you are in need of a simple cleaning or a highly complex treatment, we are certain that we can meet your needs to restore your oral health. We invite you to browse our website, call us, or visit us in Moorpark, California to learn more about our dental practice and our services. Dr. Paul Takemoto and our highly skilled team are always ready to help you maintain and improve your smile!
Featured Services:
Why Choose Moorpark Smiles Dental
Our team at Moorpark Smiles Dental is full of dedicated compassionate, and knowledgeable dental professionals. We understand that most people do not enjoy going to the dentist. However, when you get to know our fun and caring team, that could all change! Because we are a small private practice as opposed to a large corporate dental clinic, we are able to take the time to get to know each patient as an individual, and you can always see the same person for your dental care. We never treat you like you are just a number or a smile to be fixed. At our practice, we speak English, Spanish, and Tagalog to serve a wider range of patients. Come visit us today!
Patient Information
Click a Button Below to Learn More
At Moorpark Smiles Dental, we are committed to helping our patients achieve healthy, beautiful smiles in a comfortable and trusting environment. We want you to understand the ins and outs of your dental care, so you can feel more confident about the treatments you receive. To help you understand more about what you can expect during your visits with our dentist, we invite you to click one of the buttons below! Our team is happy to answer any questions you may have. We want you to feel 100% prepared for your visit.